Shipping & Returns
Shipping:
Moped Division processed and ships orders normally within 24hours M-F. We offer free shipping on all domestic orders (HI & AK not included) over $99. And $299 to Canada, Hawaii and Alaska. After this level is exceeded we will pick the best shipping method for your order. For expedited or preferred methods, you can upgrade to a service of your liking.
ORDERS RECEIVED AFTER 12PM WILL NOT ALWAYS GO OUT THE SAME DAY. ORDER EARLY!!!
Since the Start of Covid all shipments are estimated and sometimes can take 2-3x longer than normal. There are no more guarantees or refunds on late deliveries.

We can ship to virtually any address in the world. Please note; there are restrictions on some products like batteries, chemicals that cannot be shipped to international destinations, including AK, HI, PR. 99% of the items listed ship direct from our Summit Station, PA warehouse. However some items may ship from a satellite warehouse depending on current stock. All domestic shipments will generally arrive in 3-5 business days of shipping.
Domestic Shipping Times: Based off a 24hr processing time, we try to ships order placed the same day before 12pm Eastern time. Normally all orders are shipped within 24 hours.
USPS First Class: 4-7 days depending on location. Delivers on Saturdays. Only available for packages under 13oz
USPS Priority: 2-3 days. Deliveries on Saturdays.
USPS Priority Express: CONTACT US DIRECTLY FIRST IF NEEDED. Over the years we have found this shipping option rarely meets anybody's expectations and most are not satisfied with the cost and actual delivery time. Though, it may work for your needs and time frame, please use at your own discretion. Normally. 1-2 days. Delivers on Saturdays. (please note our processing times and cut-off for same day shipping is 12pm Eater Time)
Best Way 1-5 Days: 1-5 days in most cases depending on your location. (Check out the map below for general guidelines. Yellow areas can take 1-2 days while all the others are a maximum time estimate). Since computers are still not smarter than us, we will choose the best way to ship your package based off the weight, size and destination while providing you the best online price calculation. Utilizing USPS Priority Flat Rate Boxes and Envelopes when possible, while heavier shipments traveling further away will be shipped UPS or Fed Ex. If you prefer for the package to be shipped a specific way, please don't hesitate to send us a note along with the order.
UPS Next Day Air Saver: Cutoff time is 12pm eastern time. Delivery days are M-F. Does not include Saturday or Sunday. If you need to expedite faster, contact us for more options and pricing. Over the years we have found these express / overnight shipping option rarely meets anybody's expectations and most are not satisfied with the cost and actual delivery time. Use at your own discretion.
UPS 3 Day Select: Delivery within 3 days of the 48 contiguous U.S.. Cutoff shipment time is 12pm eastern.
UPS Ground: 1-5 days in most cases depending on location. Can be next business if you are located in the yellow zone.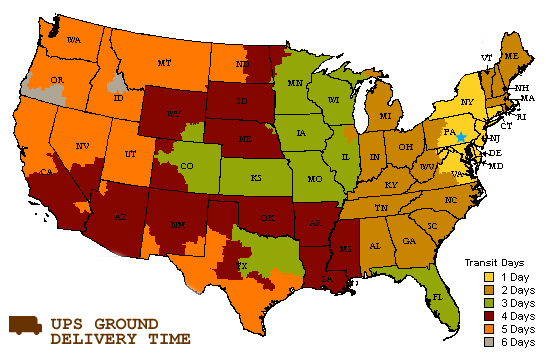 International Shipping Times: Based off a 24hr processing unless items are in separate warehouse. Then the order will be consolidated at one warehouse before being sent abroad. Most orders typically arrive 12-15 business days, but can be longer depending on customs and your physical location. *Please be aware that if you are an international customer, you may be required to pay "customs duty fees" to receive your package. This is not something we can fix or help with. Inquire with your local post or customs office for details.
Damage in Transit / Missing items. We must be contacted within 48hrs of the item being delivered. Pictures are required of the original package and the damaged item(s). More information will be provided after we are notified.
Returns:
For any problems with fitment please contact us HERE first as most issues can be sorted with a little technical advice. We only accept returned products that are new, unused items in its original packaging. We must be contacted about your intentions to return within 30 days of delivery. Shipping costs will be paid by us if the return needed is a result of our error (you received an incorrect or other than described product) along with any non-used/installed items that are defective or improperly manufactured If you simply do not want it or ordered incorrectly, then you are responsible for the return shipping plus a restocking fee of up to $4. In this instance original shipping cost will not be refunded. Even when it was "Free Shipped". For example. If your order was $150 and $75 worth of merchandise was returned. Then 50% of the actual shipping cost will subtracted from your refund amount. It is only free shipping when you keep the products. There are no exchanges unless under special circumstances. You must return the item and then make a new purchase. No returns on items that total value is under $5.
Please note. We do not accept returned items that show use in anyway. For example: Grease marks on item/packaging, missing original packaging or signs of installation and starting of the engine. Absolutely no returns on inner tubes or electrical parts. In all cases we will use best judgement according to this policy, but retain the right to refuse returns of unusual circumstances. (holes in tubes are caused by installer error, not manufacture defect)

To return an item, simply login to your account if you have one, view the order using the "Complete Orders" link under the My Account menu and click the Return Item(s) button. We'll notify you via e-mail per your request with return instructions. Or contact us directly through the website if you do not have a account. You will be refunded once we've received and processed the returned item. Returns received without prior notification will cause delays in refunds or other resolutions.
Terms and Conditions


Moped Division customer agreement
Please read the following terms and conditions of use carefully before using this website or making a purchase. All users of the Moped Division website agree that accessing and using this site is subject to the following terms and conditions and other applicable law. If you do not agree to these terms and conditions, please do not place a order or view the website content.
Product Disclaimer:

The products available on this site include components which may cause undesired effects if fitted to your vehicle without necessary expertise, or fitted in contravention to the vehicles specifications, or modify the vehicle's specification outside of legal requirements. Please note that use of such products is at your sole risk, and that you assume full responsibility for any and all results of usage, and complying with the vehicle legal requirements in your locality, state or country. Moped Division highly recommends using a professionally trained and qualified mechanic to install replacement parts of any kind.
Warranty:
Moped Division makes no warranty as to the products it distributes, express or implied, including without limitation any warranties of merchantability or fitness for a particular purpose. However Moped Division will pass on any and all warranties made by the original manufacturer, who has the sole responsibility for performing any such warranties. The manufacturer shall be solely responsible for any damages to person or property arising from the design, manufacture, and testing of its products. Moped Division shall not be liable for any direct, incidental, or consequential damages as a result of any manufacturer's breach of its warranty.